San Francisco Beer Week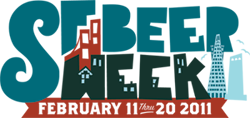 February 11-20, 2011
Presented By the San Francisco Brewer's Guild In the distance, in a dark cave, amidst the dust and languor, it collects itself. It recalls fuzzy memories of adventure, charisma, emotion, triumph, feats of strength.

It stirs in the depths, shaking off the cobwebs and pushing aside empty steins and oaken barrels. Stepping into the sunlight, it studies the foreign terrain.

Its aura pulsates, gathering energy. It is overcome with a forgotten need - is that... thirst? Scanning the horizon, it sets its sights on a bay surrounded by bridges and green mountains. It marches forth, thirsty and determined. It will not be denied.
Official Website:

http://www.sfbeerweek.org